President Obama praised the "father of your nation" Mahatma Gandhi and noted Gandhi's influence on Martin Luther King and the non-violent resistance that typified the American civil rights movement in his address to the Indian Parliament Monday.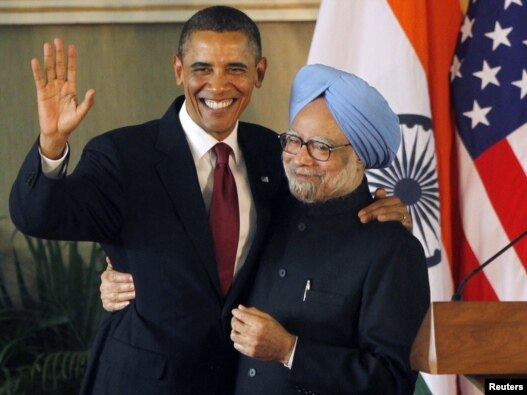 "I am mindful that I might not be standing before you today, as president of the United States, had it not been for Gandhi and the message he shared and inspired with America and the world," the president said.
From the CNN Wire Staff –
Earlier at a joint news conference with Indian Prime Minister Manmohan Singh in India's capital, New Delhi, Obama said the relationship between the United States and India is "stronger, deeper and broader" than ever.
"We make some of the best products in the world and we want to sell them to a growing Indian market," Obama said. At the same time, those economic exchanges offer Indians the opportunity to build their businesses as well, he said, citing solar technology as an example for the potential to create jobs in the United States and India.
"We shouldn't be resorting to protectionist measures. We shouldn't be thinking of it as a one-way street," added Obama, who said India is not an economic "bogeyman."
Singh said likewise: "India is not in the business of stealing jobs from the United States of America." He called economic ties between the countries a win-win situation, as Obama did.
On Saturday, the president unveiled about $10 billion in contracts for U.S. exports to India. It is Asia's third-largest economy and one of the world's few growth markets.
From Dawn Media –
Obama urged India and Pakistan to talk to resolve their differences Sunday as he stressed the need for peace between the neighbours, who are vital for his plans in Afghanistan.
Venturing into the delicate area of relations between the nuclear-armed rivals, Obama insisted New Delhi had the most to gain from a stable Pakistan, while urging Islamabad to do more to address extremism.
"My hope is that, over time, trust develops between the two countries, that dialogue begins perhaps on less controversial issues building up to more controversial issues," he said on the second day of a three-day trip to India.
India is extremely sensitive about outside interference in its relations with Pakistan, particularly over the disputed region of Kashmir, and Obama was keen to avoid upsetting his host or angering Pakistan, a key anti-terror ally.
See also –
Obama and Michelle celebrate Diwali with Mumbai kids
Coconuts removed from trees at Mumbai Gandhi Museum for Obama's Safety